<p>The new <a href="http://www.pritzkerprize.com/164/pritzker2005/sanfranciscofederalbuilding.htm">San Francisco Federal Building</a>, designed by <a href="http://www.morphosis.net/">Morphosis</a> starchitect <a href="http://www.greatbuildings.com/architects/Thom_Mayne_-_Morphosis.html">Thom Mayne</a>, opened earlier this year. It&#39;s visible from the windows of our kitchen at work, so I see it at least five times a day, every time I make myself a decaf double americano. And I <em>knew</em> it looked familiar. Today I finally figured it out. </p><p>The building:</p><p><img src="/files/u10403/14mayn_CA1_650.jpg" alt="" width="500" height="375" /> </p><p>And what must have been the inspiration: </p><p><img src="/files/u10403/crawler_copy1.jpg" alt="" width="475" height="219" /> </p><p>(Oh, come on. It&#39;s the Sandcrawler from <em>Star Wars</em>. The nerds got it.) </p>
---
The new San Francisco Federal Building, designed by Morphosis starchitect Thom Mayne, opened earlier this year. It's visible from the windows of our kitchen at work, so I see it at least five times a day, every time I make myself a decaf double americano. And I knew it looked familiar. Today I finally figured it out.
The building: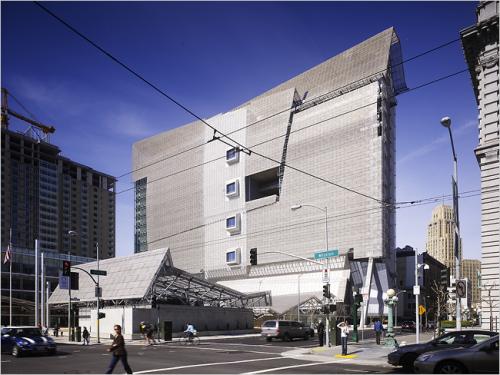 And what must have been the inspiration:
(Oh, come on. It's the Sandcrawler from Star Wars. The nerds got it.)
By the way: don't click the link to the jump page. Nothing there to read.
Here are more words that I am writing, that you should ignore. For some reason our kooky blog software won't let me post anything shorter than 100 words. Which goes a long way toward explaining why I'm still here, typing.
---
San Francisco Just Ended Single-Family Zoning
The San Francisco Board of Supervisors voted to Tuesday to eliminate single-family zoning, but pro-development advocates say additional changes are needed to unleash a wave of construction.
Biden's Environmental Legacy (So Far)
President Biden campaigned on promises to restore many of the environmental regulations rolled back by the previous administration, while promising new efforts to tackle environmental injustice and climate change.
This six-course series explores essential urban design concepts using open source software and equips planners with the tools they need to participate fully in the urban design process.
This course aims to provide an introduction into Urban Design Sketching focused on how to hand draw master plans using a mix of colored markers.
View More