<p><img src="/files/u10403/shockney9.jpg" alt="" hspace="10" vspace="6" width="268" height="162" align="left" />The French postmodern philosopher <a href="http://en.wikipedia.org/wiki/Baudrillard">Jean Baudrillard</a> <a href="http://www.iht.com/articles/ap/2007/03/06/europe/EU-GEN-France-Obit-Baudrillard.php">died yesterday</a> (<a href="http://www.amazon.com/gp/reader/0679720200/ref=sib_dp_pt/105-3662130-2734002#reader-link">&quot;or yesterday maybe&quot;</a>). He wrote a lot about simulation and simulacra; if you went to college in the late 1980s like me, you quoted him in your thesis. Lots of stuff about how things in the world were actually perfect simulations of real things, and what that meant for our experiences of them.</p><p>Postmodernists. Weird guys.</p><p>But I remembered—misremembered, actually—a salient bit from his book <a href="http://www.amazon.com/America-Jean-Baudrillard/dp/8433925059/ref=pd_bbs_sr_4/105-3662130-2734002?ie=UTF8&amp;s=books&amp;qid=1173293088&amp;sr=8-4"><em>America</em></a>. Tracked it down in a recent issue of the <a href="http://www.ubishops.ca/baudrillardstudies/vol4_1/levy.htm"><em>International Journal of Jean Baudrillard Studies</em></a>. It&#39;s coming after the break.</p>
---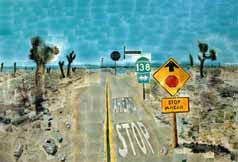 The French postmodern philosopher Jean Baudrillard died yesterday ("or yesterday maybe"). He wrote a lot about simulation and simulacra; if you went to college in the late 1980s like me, you quoted him in your thesis. Lots of stuff about how things in the world were actually perfect simulations of real things, and what that meant for our experiences of them.
Postmodernists. Weird guys.
But I remembered-misremembered, actually-a salient bit from his book America. Tracked it down in a recent issue of the International Journal of Jean Baudrillard Studies. It's coming after the break.
Driving is a spectacular form of amnesia. Everything is to be discovered, everything is to be obliterated. Admittedly, there is the primal shock of the deserts and the dazzle of California, but when this is gone the secondary brilliance of the journey begins, that of the excessive, pitiless distance, the infinity of anonymous faces and distances, or of certain miraculous geological formations, which ultimately testify to no human will, while keeping intact an image of upheaval. This sort of travel creates its own peculiar type of event and innervation, so it also has its own special form of fatigue. The defibrillation of the body overloaded with empty signs, functional gestures, the blinding brilliance of the sky, and somnambulistic distances, is a very slow process. Things suddenly become lighter, as culture, our culture, becomes more rarified. The only question in this journey is: how far can we go in the extermination of meaning? This moment of vertigo is also the moment of potential collapse. Not so much from the tiredness generated by the distance and the heat, as from the irreversible advance into the desert of time.
Just read it a couple of times. It's not obtuse, just dense. Point is, driving all the time, or for long distances, changes our sense of space and time. Einstein knew this, too, though for him you had to be going relativistic speeds. We Angelenos know that all it takes is pushing the spedometer to about 80 mph. Or maybe 88...?
---
The End of Single-Family Zoning in California
Despite a few high-profile failures, the California State Legislature has approved a steady drumbeat of pro-development reforms that loosen zoning restrictions. The state raised the stakes on its zoning reforms this week.
This six-course series explores essential urban design concepts using open source software and equips planners with the tools they need to participate fully in the urban design process.
This course aims to provide an introduction into Urban Design Sketching focused on how to hand draw master plans using a mix of colored markers.
View More