RFQ for Urban Design Services for Downtown Rohnert Park
City of Rohnert Park
Deadline:
Thursday May 26, 2022
Location:
Rohnert Park, CA
Website
---
---
Request for Qualifications for Urban Design Services for  Downtown Rohnert Park
The City of Rohnert Park invites you to the following opportunity:
URBAN DESIGN SERVICES FOR DOWNTOWN ROHNERT PARK
I.          General Description of the Project
The City is seeking a consultant team to assist with updating plans for a 30-acre downtown in Central Rohnert Park. The parcel shown on Figure 1 below as the grey area labeled "Station Center'' was recently purchased by the City.  The City wishes to revisit the site development plan, regulating plan, and other aspects of the project. 
The site is in the Central Rohnert Park Priority Development Area (PDA) Plan. The PDA Plan establishes a vision for a vibrant mixed-use area near the Sonoma-Marin Area Rail Transit (SMART) station, including strategies to support a walkable downtown with a variety of jobs, housing, shopping, services, and transportation options. The Downtown District Amenity Zone (DDAZ) is an overlay district with a form-based code (FBC) which encompasses Station Center Subarea. The form-based code is intended to focus investment in the downtown and facilitate creation of a compact and walkable commercial and residential area. The FBC provides the specific standards for implementing the goals for the downtown. The current FBC regulating plan was developer driven and created prior to the COVID-19 pandemic and the resulting changes in real estate market conditions. These facts combined with the City's recent purchase of the property create the need to revisit our downtown plans.
Figure 1: Downtown District Amenity Zone Area
II.         Schedule, Location, Contact
In order to meet our internal deadline, we have set the following schedule:
Deadline for submittal: May 26, 2022, prior to 4:00 PM
Interviews (if necessary): Week of June 6, 2022
City Council Contract Award: June 28, 2022
Submit Statement of Qualifications to: City of Rohnert Park
Development Services
130 Avram Avenue
Rohnert Park, CA 94928
Questions regarding this RFQ,
please direct to:                                 
Mary Grace Pawson, Director of Development Services
707-588-2234
Jeffrey S. Beiswenger, AICP, Planning Manager
[email protected]
707-588-2253
For additional information, view the City's downtown landing page.
III.        Scope of Services
This scope of services outlines the steps the City believes will be necessary to update the sited development plan, form-based code regulating plan, and other documents.
REVISIT PROJECT DESIGN
As described above, the City adopted a PDA Plan, which provides the overarching guidance for future development that will facilitate creation of a downtown. The PDA Plan process involved extensive stakeholder and community outreach that has generated a wealth of information and insight regarding the community's desires for a downtown. The form-based code creation process built on this community involvement with numerous workshops, and community events, and a multi-day design charrette.  The elements of the downtown are well established.  We need to revisit the quantity (e.g. number of housing units, square footages of office space, retail space, plaza space, park space, etc.) of various elements.  We also need to revisit the locations of the elements and layout of the plan with an eye towards phasing as well as foundational urban design principles. 
Draft Site Plan Revisions Consultant will bring experience from similar efforts and recent examples successful projects to facilitate in internal discussion with staff to re-vision of the layout of the regulating plan.  The Consultant will draft exhibits as follows:

i. development site plan
ii. programming tables
iii. parking strategy
iv. emergency vehicle access plans (including fire truck turn exhibit)

Public Presentations Consultant will provide evidence-based support for the revised plans. In other words, explain why the plan is appropriate based on evidence.  We anticipate holding four meetings as follows:

i. Community Workshop
ii. Park and Recreation Commission
iii. Planning Commission
iv. City Council
DRAFT MUNICIPAL CODE AMENDMENTS
Draft Amendments to Rohnert Park Municipal Code Based on the presentations above and feedback from the council, Consultant will review the FBC and draft amendments as needed to be consistent with the new regulating plan.  Staff expects these to include a new regulating plan (Figure 2 below shows the current plan), perhaps the block size diagram and table (17.06.710.A.2.a), and amendments to some street cross-sections (e.g. 17.06.710.C.7.k).  In addition, code amendments are anticipated to remove the Planned Development designation from the site now that the FBC is in place.
Figure 2: Downtown District Amenity Zone Regulating Plan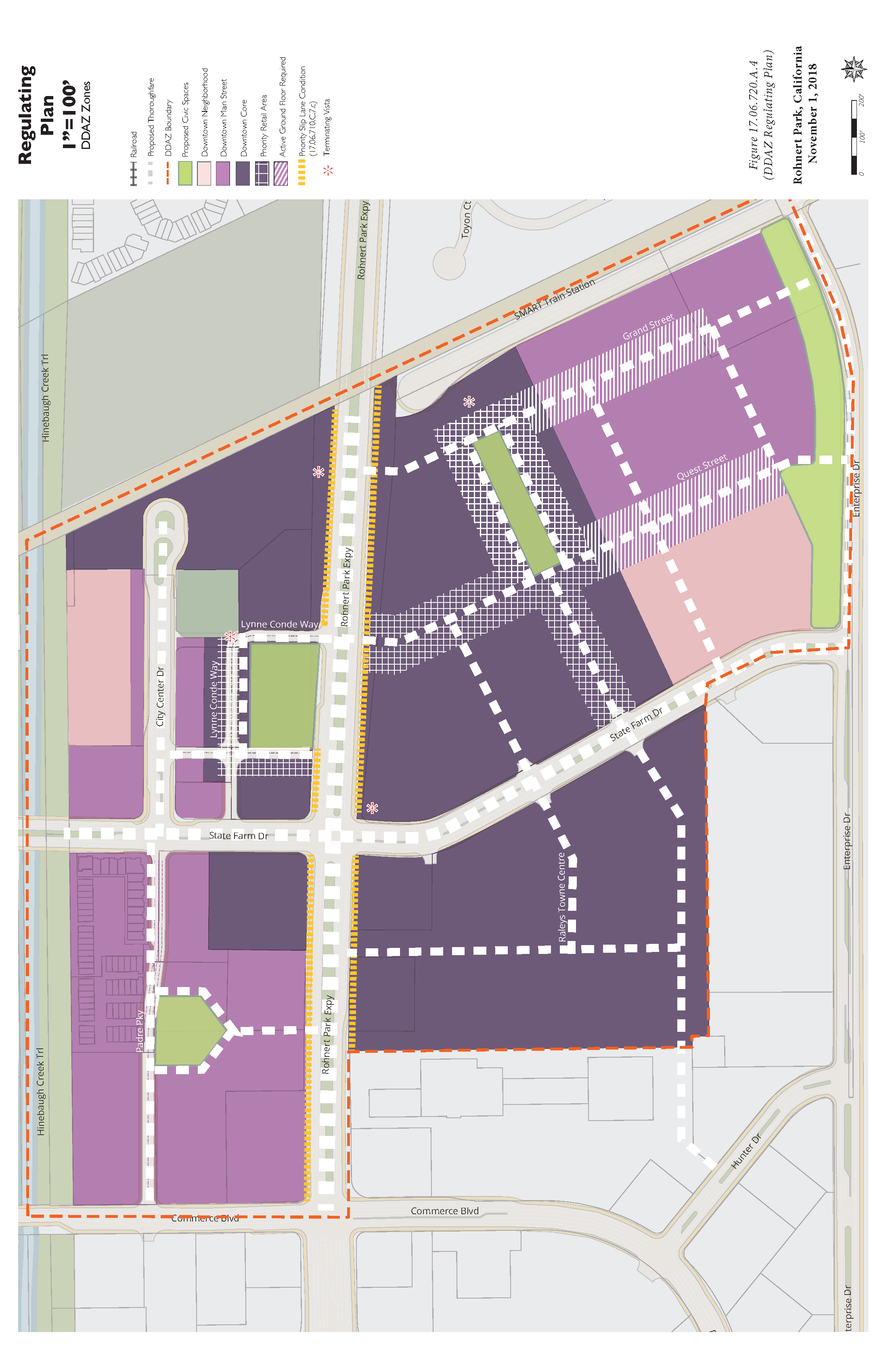 APPROVAL PROCESS
Public Hearing Presentations.  In addition to the presentations above, the consultant will make formal presentations to the Planning Commission and the City Council for code amendments.
Additional Revisions.  The Consultant will be responsible for two rounds of revisions that may become necessary between presentations. City staff will be responsible for collecting comments, questions, and suggestions for these refinements from various sources and consolidating them into a series of action items for revision or responses.
IV.        Schedule
The City's goal is to have an updated site plan approved by city council by October 2022.  The code amendments can follow behind by February 2023.
V.         Minimum Qualifications       
Consultants interested in providing these services should submit a statement of qualifications.  Electronic submittals are requested.  Your statement should include the following items:
Cover Letter:  The cover letter is to be signed by an officer of the firm authorized to execute an agreement with the City.     
Identification and Qualifications of Consultant:  Including a brief overview of qualifications of Consultant.  Please include a discussion of your background, relevant experience including experience preparing site plans for mixed-use projects or downtown areas, and five recent relevant projects—that have been constructed—with references. 
Personnel: Identify your proposed team, including sub-consultants.  Include resumes along with experience and qualifications and availability.
VI.        Review Process
Consultant selection will be based upon the statement of qualifications submitted. Evaluations will be based on the consultants:
Qualifications. Experience preparing site plans for mixed-use and downtown area projects that have been successfully constructed will be important.  Experience on projects not yet completed should be omitted.
Availability of Key Personnel.  It is a busy time for planners and architects.  We are sensitive to the current conditions.  Please propose staff that can commit to this project and the completion deadlines.  The statement should demonstrate that commitment.
The City may request additional clarifying information from any or all consultants that submit a statement.  The City will evaluate the responses to this RFQ, may interview the top rated consultant(s), and negotiate a contract for Consultant Services with the consultant that City determines is the most qualified.
Consultants may be requested to be available for an interview with City staff in Rohnert Park as part of the City's final selection process.  The key members of the consultant team will be expected to attend any interviews scheduled with the City.
VII.       General Terms and Conditions
The City reserves the right to reject any and all statements and to award any or all sections of the work to one or multiple consultants.
The City will not be responsible for any costs incurred by respondents in the preparation and submittal of a response to this RFQ. 
The City reserves the right to modify the scope of the work for this project at any time.
Documents, drawings and findings (regardless of format) that are associated with this project shall be the property of the City.
Attachments:
            A.  Sample Consultant Services Agreement
Posted April 27, 2022
---
Want to see more RFPs?
---

Planetizen Courses: Online Training in Urban Planning
Access more than 250 urban planning courses on your computer, phone, or tablet. Learn today, plan for tomorrow.
---

Planetizen AICP* Exam Prep Class
88% of students who took our class passed the exam and became AICP* certified.