Our Place on Earth is poised to share climate change success stories from around the world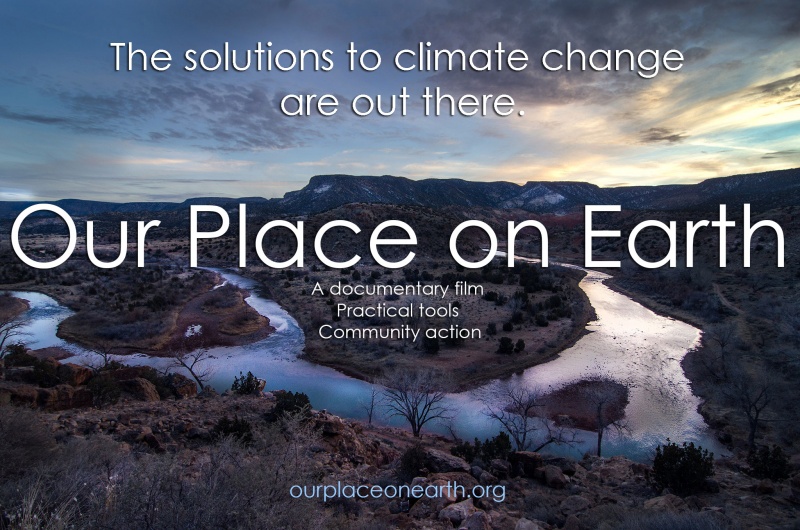 Filmmaker Tom Miller and research and policy consultant Nuin-Tara Key have teamed up to launch Our Place on Earth, an ambitious project whose goal is to share and replicate successful climate change actions from around the world. 
The project is a marriage of documentary film, community engagement, and policy.  "We're trying to engage as many people, at as many levels as possible," said Ms. Key.
There are three components to this project:
A documentary film to capture the perspectives, success, and personal stories of people and communities as they adapt to a changing climate.  
A toolkit for practitioners and communities, who want to replicate and expand successful practices in their own communities.  
Low-cost film trainings to help communities share their successes around the world, and to reduce the risks of climate change in their own communities.
Our Place on Earth's first goal is to turn the fear-based climate change film on its head by leading with a message of hope.  "A lot of people think change is impossible, but there is remarkable work going on at the local level, all over the world," says Mr. Miller. 
The film will be an intimate, on-the-ground portrayal of people's lives as they spearhead climate change initiatives in their own communities.  Miller thinks the film will be an important driver to expand public understanding and support for community-based adaptation efforts, and also a forum to share indigenous and more traditional forms of knowledge.  "People have been adapting their communities for thousands of years.  There are so many lessons out there on how to live more sustainably and harmoniously with our world.  We want to shine a light on this knowledge."
Along with the film, Our Place on Earth is developing a toolkit for communities, and practitioners to help replicate the work being done at the community level.  "Our ultimate goal is to learn from and scale-up these localized strategies so they're applicable at a global level," says Nuin-Tara Key, the project lead for the toolkit. 
But, as Key stresses, care must be taken when developing local strategies.  "Are our actions going to be equitable?" asks Key.  "How are decisions being made – who is at the table? Who is going to benefit?  Who won't?  What are the economic, social and environmental impacts in the long run?"  To address these concerns, Key is using a Climate Justice framework to inform the development of the toolkit.  Among these values are equity, empowerment, accountability and participation.  "We believe Climate Justice should be our common language," said Key.  "A Climate Justice approach offers a means to make informed and impactful decisions that provide economic and social benefits through our climate change actions."
The project's third initiative is to provide community workshops in low-cost video storytelling. "With video, developing communities have a real advantage when engaging policy makers around funding and development needs.  There is also a huge opportunity for communities to share knowledge with each other."  Tom likens this sharing to Silicon Valley's "fail fast" mantra. "Knowledge exchange is the most important factor for innovation," says Miller.  "We need to try, fail quickly, learn from our mistakes, and try again.  It is in this exchange of knowledge and stories that we discover how to adapt - how to transform our lives."   
On May 13th, Our Place on Earth launched a funding campaign on Indiegogo to raise money for the first phase of the project.  "Right now, we're focused on securing funding and building partnerships.  It's important for us to include as many people as possible, and crowdfunding is a great way to get a lot of people involved," said Key. 
Starting in July of 2014, Miller and Key will spend six months traveling and partnering with communities in the Caribbean, Central America, and Scandinavia, where they will film, develop the toolkit, and hold workshops around low-cost video.
Both the film and toolkit are scheduled for release in summer, 2015.
Published on:
May 20, 2014 - 3:22pm