Rail~Volution 2018 - transit, mobility, community development - be there!
Oct 21, 2018
Pittsburgh, PA
Website
Registration is now open for Rail~Volution 2018, October 21-24 in Pittsburgh, PA. For best rates on registration and lodging, register by September 21. Make sure to check out the pre-conference events and 20 Mobile Workshops - they sell out fast! Conference Information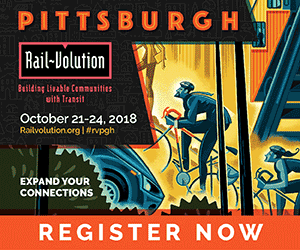 The annual Rail~Volution conference brings great thinking together about every aspect of transit (bus, BRT, and rail), related mobility options, and community development. 
What topics are on tap for Rail~Volution 2018? See this blog for the latest information. The full program will be on the Rail~Volution website in late August. 
We're excited to be in a "legacy" city, in the eastern half of the nation. Pittsburgh has a robust transit system with multiple modes, including dedicated busways, LRT, bus routes, incline railways, and a new BRT project. There's a strong bicycling culture, a very high mode share for walking to work, and a lot of energy around new technology and sustainability. The potential for mobility-oriented development around new and existing routes (BRT to bike trails and more) is enticing.
Register now to be part of four days of networking and learning:  20 Mobile Workshops, 75+ workshop sessions, the Rail~Volution PK Slam and numerous other social opportunities to meet the people in the public, private and nonprofit sectors who plan, build, finance, and advocate for livable communities. New this year: the Tech Tank Innovation Challenge, focused on new technologies that enhance livability. MOD Sandbox grantees will also be meeting in conjunction with Rail~Volution. Check out the workshop on Sunday: Introduction to EcoDistricts. And more. 
Mobility options are changing, but transit (bus, BRT and rail) is still the backbone of connected, livable communities. Come to Pittsburgh to meet the people who are making it happen!
Published on:
July 31, 2018 - 12:17pm