Blogs
Blogs are a rewarding platform for bringing academic perspectives and research results to a much broader audience of scholars, planning professionals, students, and citizens.
A meta-analysis of the archive of popular local planning website PlanPhilly provides insight into the issues and ideas that drive the planning conversation in Philadelphia.
The blog Greater Greater Washington has been instrumental in furthering the discussion of land use in D.C. Rachel Weiner profiles its controversial founder, David Alpert, whose lack of formal planning experience is no impediment to his ambitions.
Washington's panoply of hyperlocal news media is filling the holes left by tradition outlets as web 2.0 expands. Since many of the local newspapers have folded, bloggers and other digital media have grown to cover matters at the local level.

I had the opportuntity, at the 2009 national planning conference in Minneapolis, to present (together with my colleague Christian Peralta Madera) ten free web applications that can be used to support planning.

Approximately 350 participants attended the session. Since the presentation, I've received over 100 emails congratulating us on the practical nature of the presentation, and requesting links to the websites we presented. Since our presentation was a hands-on demonstration, this blog entry outlines the ten technologies, and provides links to examples of the technology in practice and resources so you can experiment with the technologies.

Amid the citywide blight of Detroit is the City Airport neighborhood -- rife with crime and virtually deserted by residents. But now former residents have begun to write and blog about the neighborhood, its better times and its possible futures.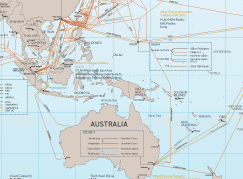 So how do you permit and build a 4,000-mile undersea communication cable system? And why do we care?
Rethinking College Park
Is College Park, Maryland a great college town? Although the town is home to a top-ranked national research university that is one of the largest employers in the state of Maryland, the town pales in comparison with the nation's best-liked college towns, whether Ann Arbor, Michigan, Ithaca, New York, or Charlottesville, Virginia. In this post I describe one attempt to use the internet to improve an aspiring college town.
With the coming of summer, students finish courses, faculty head off to do research, and practitioners think about vacations. However, for those interested in keeping up to date with academic issues in planning, a number of bloggists provide useful insights into the politics and hot issues in planning education. For students they are a window into the work of educators and for practicing planners they are an easy way to keep up to date with what's happening in the schools.