Dublin
The potential of Light Detection and Ranging (LiDAR) data to redefine mapping and modeling will be on display in the city of Dublin, Ireland, after NYU researchers released the largest ever LiDAR data set.
Anticipating a massive shift of companies from London following implementation of Brexit, Dublin, Ireland is seeing plans for new office buildings popping up all over.
A small public transit company serving the East Bay will be the first in California to conduct a pilot project to use transportation network companies and taxis to service low density areas of Dublin in Alameda County.
Athlyn Cathcart-Keays of The Guardian-Cities chronicles the advancement of the international urban car-free movement as well as auto regulations that focus on air pollution. The most recent city to join the growing list is Oslo, Norway
Facebook has a thing for Frank Gehry—and the feeling, apparently, is mutual.
Kaid Benfield revisits the results of a plan to revitalize the town center of Plessis-Robinson, a suburb of Paris, with the suggestion that its success could inform similar efforts in the United States.
An expansion of Dublin's light rail system (DART) has been put on hold by Ireland's Transport Minister, who is ditching the idea in favor of a bus rapid transit system.
The city of Dublin, Ohio, is trying to un-eminent domain some land it acquired from a local landowner. The project it had seized the land for has since fallen apart, and the city now wants its $5 million payoff back.
A new bike sharing system in Dublin is turning out to be a surprise success in the Irish city.
Beginning this September, residents of Dublin will have a new option for getting around town as the city's new public bicycle system debuts.
With thousands more licensed taxis than New York City, Dublin Ireland is facing a glut of idle cabs.
While the goal of these walkable communities is to attract young urban professionals, the benefits, of course, extend beyond that.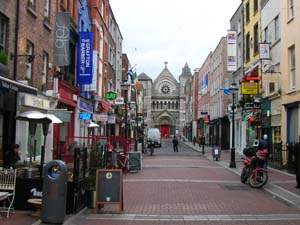 Anne Street, Dublin City Center: A mixture of uses prevail
in this pedestrian friendly, human-scaled street.