Advertise in the Planetizen Schools Directory
Planetizen is the #1 result in Google when you search for "urban planning school," and "urban planning programs."

Planetizen's online School Directory of Urban Planning Schools is a definitive and popular resource for would-be urban planning and design students.

Based on "The Planetizen Guide to Graduate Urban Planning Programs", the only comprehensive ranking and listing of graduate urban planning programs available.
Covering 379 Planning programs in more than a dozen countries, the expanded, updated, and redesigned directory is easier than ever for prospective students to navigate. 
The new directory includes graduate, undergraduate, and International planning programs, as well as related programs to the planning field. It enables students to find schools by County, State, type of degree, and 25 different specializations, ranging from Agriculture & Food Policy to Zoning Administration.

Stand out from the pack with a School Directory ad and premium profile!
Download Planetizen's Advertising Guide [PDF, 2.1 MB]

Benefits of School Page Advertising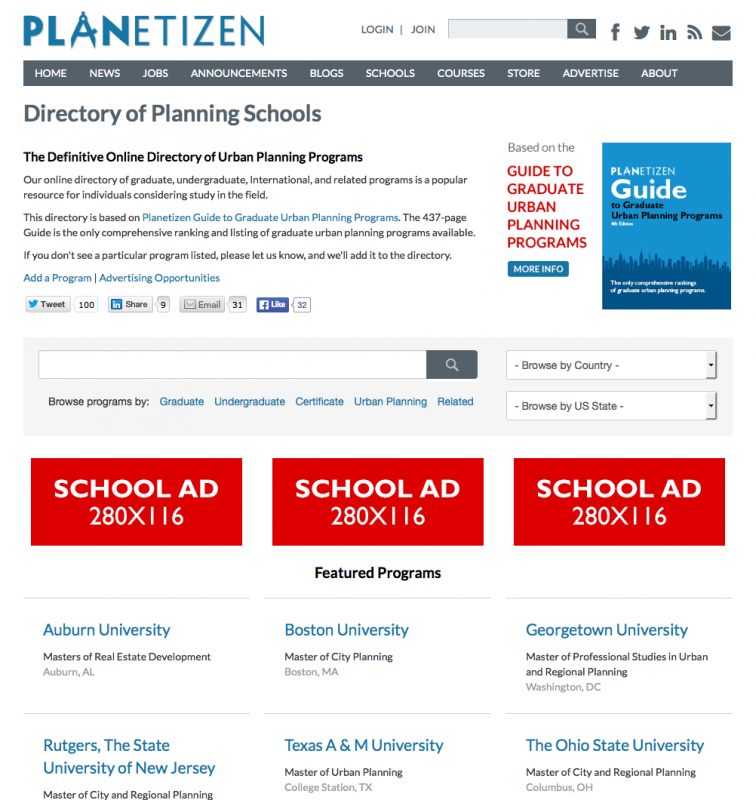 Your ad will appear on the top of each directory listing page.
Your ad appears on all non-premium school profiles.
Benefits of Premium Profile
Highlighted in directory
Add your school logo and other photos
Link to your social media profiles (facebook, twitter, LinkedIn, flickr, youtube)
No outside ads displayed on program page
Lets students know more about program with program description
School Ad Specs
Dimensions: 280 x 116 pixels
Size: 40K or less
Formats: PNG, GIF or JPEG
Animation: 6 seconds max
Premium Profile Images
Logo - 240 pixels wide x 100 pixels high

Slides - 300 pixels wide x 212 pixels high
Download Planetizen's Advertising Guide [PDF, 2.1 MB]
Contact us to place an ad.