I've gathered some of the best here, field tested by my boys who have grown up a little since I last made a list like this in 2010, to help you with your holiday shopping list.
---
Legos, trains, blocks and books—my own interest in urban planning was kindled by playing with toys like these that involved building and understanding how things work. There's no better holiday gift than one that unites your passion for planning with the delight of your child when they start playing with one of these gifts.
I've gathered some of my favorites here, properly field tested by my young sons.
Lego City Series Sets
Age: 5-Adult, $75-$650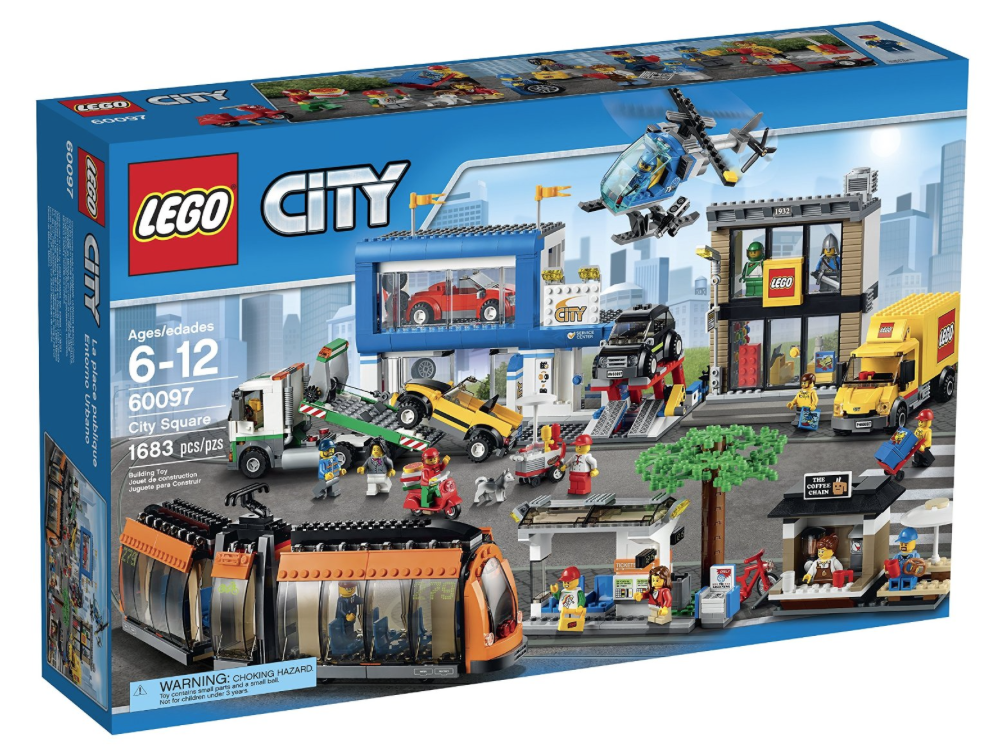 Some of the best quality time I spend with my boys is building with Legos. As you might guess, the City series focuses on city-related activities and provides a great way to talk about planning while playing with Legos. My favorite is the Public Transport Station, which features a solid set of urban planning-friendly vehicles: city bus, tram, street sweeper, and sports car (for carpooling, of course). You can take the roof off the bus to see inside and open the tram doors to load passengers. Depending on availability, prices of different sets vary, but here are some of my favorites.
And, if you're ready to go off-the edge on this, there's even the LEGO Town Plan edition, developed in celebration of the LEGO brick's 50th anniversary. This set features a retro nostalgic set based on Lego's original Town Plan 700/1, 1958, and includes a letter from LEGO Company owner, Kjeld Kirk Kristiansen, who was featured on the original town plan theme as a child.
Solar Power Energy DIY Brick Block Wood Water Wheel
Age: 6-12, $15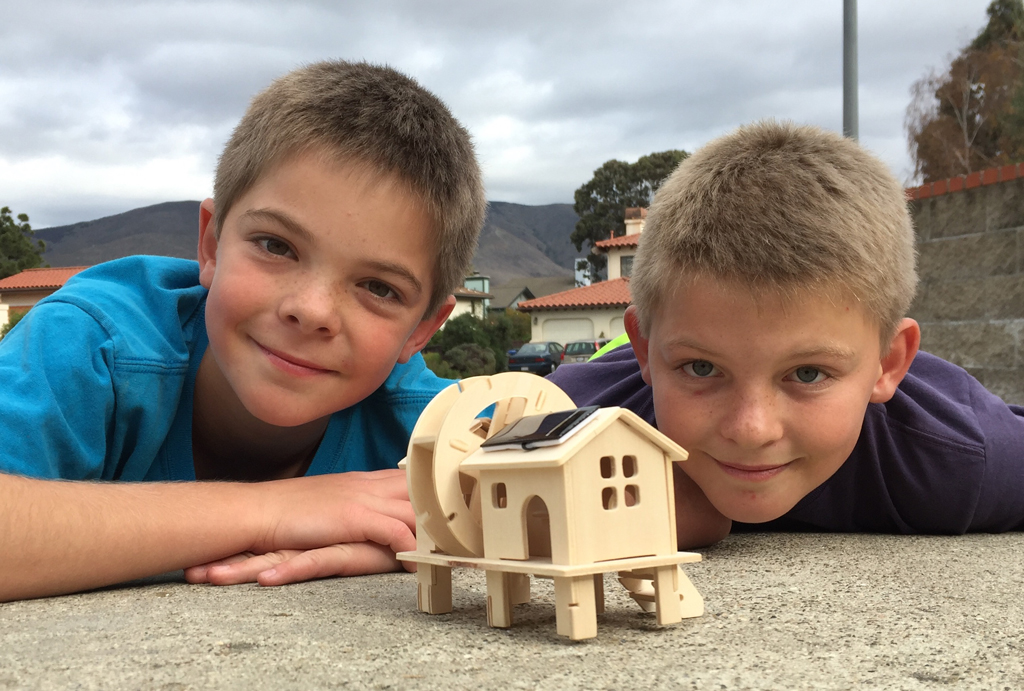 This do-it-yourself wood kit took my 10-year old boys 45 minutes to assemble, and I heard "Whoa! Cool!" when they took it outside, and the solar-powered panel caused the water wheel to spin. Kids under 8 or so will likely need a little help. At $15, this would make a great stocking stuffer.
Urban Fold Paper Block City
Ages: 6-16+, $25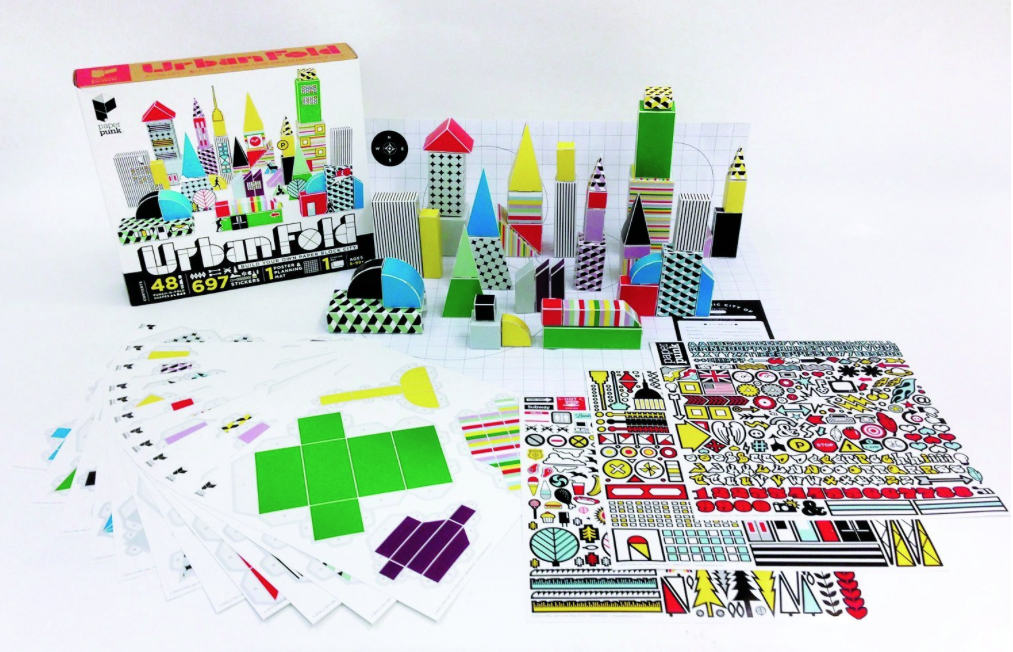 Urban Fold is an all-inclusive kit that allows anyone to build the city of their dreams with a few simple folds. You punch out shapes, fold them into blocks, customize with stickers, and build. The set includes 13 famous city landmark recipes, and 48 punch-n-fold shapes. My kids had a blast putting the blocks together, building cities, and then using several small balls to destroy and rebuild them.
Buy from Planetizen | Buy on Amazon
4D CityScape: New York
Age: 8-12+, $25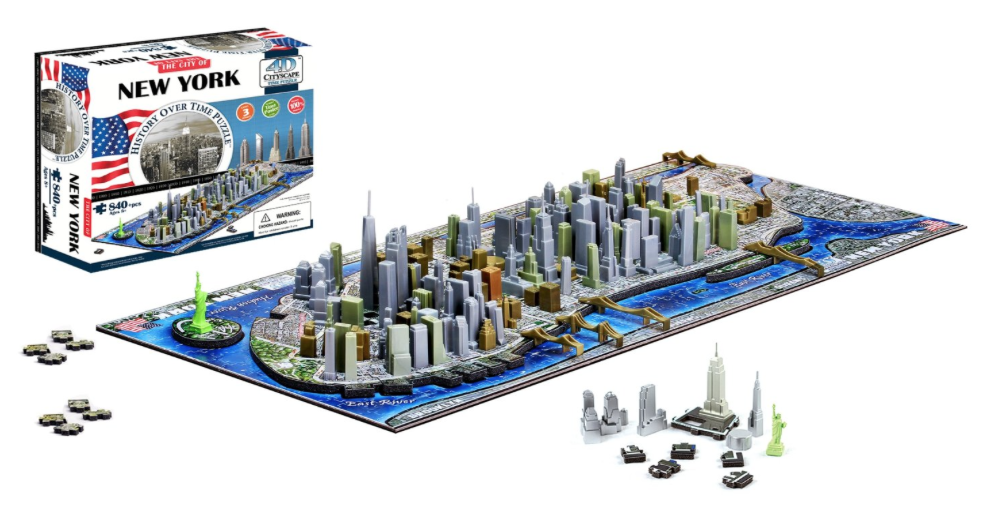 This puzzle is on my shopping list for this year, after several colleagues recommended it to me. Unlike a traditional puzzle, these 4D puzzles are multi-layered. The first two layers form a map of the city's streets, islands, roads, railways, parks, and geography. When the base layers are complete, you add additional layers to take a trip through history. I'm getting New York for the holidays, but other cities include:
Where Things Are From Near to Far (Book)
Age: 3-7, $20
Forgive the plug, but I think this 22-page, full-color, 6"x9" hardcover book, written by former Planetizen Managing Editor Tim Halbur and me, is both fun to look at and to read. The book was inspired by my desire for a book to introduce planning to my young boys. For the holidays, I will sign a personal dedication to your. Email [email protected] with your children's names and how you'd like it to read. (Santa works part-time here too, if you'd rather his signature.) Here's a review by The New York Times.  
What Do People Do All Day? (Book)
Age: 3-7, $12
Maybe you remember this classic from your own childhood? The 64-page book includes stories about various animal characters explaining what busy people do all day, from building houses, delivering mail, growing food, caring for others. When my kids were a little younger, they loved to see the pictures and follow along as I read to them.
Bruder Toys Mack Granite Garbage Truck
Age: 3-8, $90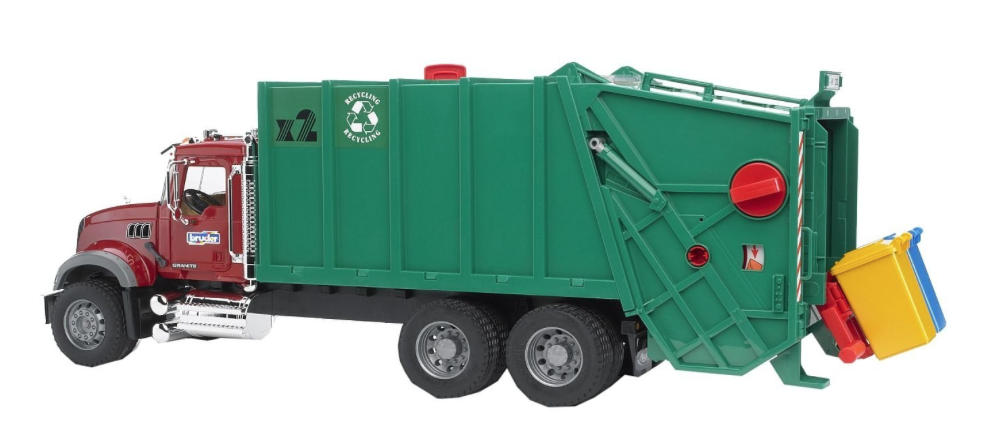 The Bruder line of toys are made in Germany from high-quality ABS plastic, are very tough, and feature a full line of forestry, agriculture (think John Deere Frontloader or Combine Harvester), construction, and emergency vehicles. My kids have put their Bruder garbage truck and fire engine to the test for over three years. They're battered, but still operate. The Bruder series are more expensive, but tend to be worth it. They're substantial (at two feet long and a foot tall), and are exceptionally realistic. For example, the Rear Loading Garbage Truck features a loading arm to dump trash bins into the loading section, a functioning trash compactor, a side dial that can actually scoop out trash from the loading section into the body of the garbage truck, and a back loader that opens up and pushes out the trash with the turn of a knob.
SimCity BuildIt for Mobile (iOS and Android)
Age: 9+, Free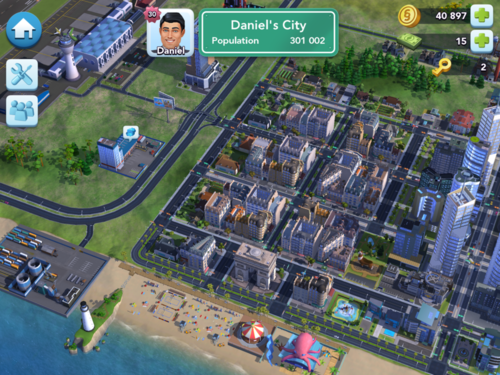 Image credit: Screenshot from iOS SimCity BuildIt, by Rowan Steins.
SimCity BuildIt has quickly become the most-played SimCity game ever. And it's easy to see why. The game offers a gentle introduction to the idea of building your own city, and quickly engages your creativity with stunning graphics. The larger and more intricate your city gets, the more needs your citizens have, and it's up to you to keep them happy. While the game itself is free, you'll you'll want a modern tablet device to play these games. If you want to make your kid's holiday totally amazing, you can get the latest Android tablet, Google Nexus 9 ($310) or Apple's latest iPad Air2 ($480) and load up this game in advance of the big day.
Buy from Apple iTunes Store for iOS (Free) | Buy from Google Play for Android (Free)
MineCraft for Mobile (iOS and Android)
Age: 9+, $6.99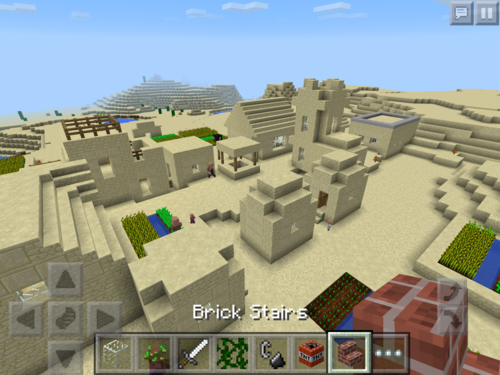 Image credit: Screenshot of iOS Minecraft Pocket Edition, by Grant Steins.
The easiest way to describe Minecraft to someone who's never seen it being played is like a virtual Lego set. But instead of Lego pieces, you use resources (wood, steel, ores, water, etc.) to build virtual structural, and interact with other creatures (cows, sheep, pigs, villagers, creepers, zombies, etc.) and other players. Compared to the highly-refined interface of something like SimCity, MineCraft's textured 3-D cubes seem sort of retro, but this lack of realism and the fact that the game has no defined purpose, seems to encourage creativity. My kids will happily spend a 2-hour car ride collaborating to build new castles. While the game itself is inexpensive, you'll you'll want a modern tablet device to play these games. If you want to make your kid's holiday totally amazing, you can get the latest Android tablet, Google Nexus 9 ($310) or Apple's latest iPad Air 2 ($480) and load up this game in advance of the big day.
Buy from Google Play for Android | Buy from Apple iTunes Store for iOS
Ticket to Ride
Age: 8+, $39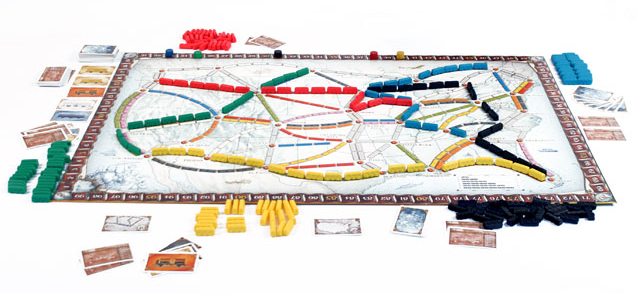 While this is one item I've not personally tried, so many of my friends recommend this game, I can't help but include it. The Ticket To Ride Board Game is a cross-country train adventure that celebrates Fogg's impetuous and lucrative gamble to travel "Around the World in 80 Days" by proposing a new wager. The stake is a $1 million prize, and the objective of the game is to see who can travel by rail to the most cities in North America in seven days. The game is played by 2-5 players. There are 225 colored train cars and players have to collect cards that allow them to use the different railway routes connecting the cities across the USA.
Waterfall Mountain Train Set and Table
Age: 2-6 years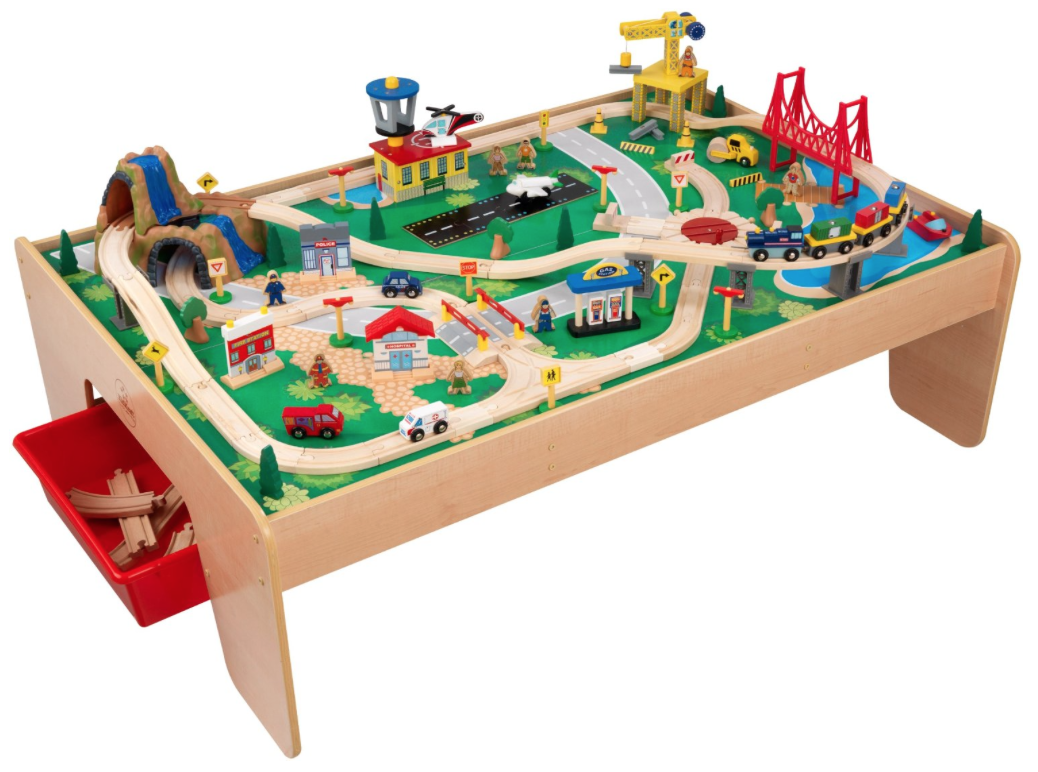 This is the ultimate gift for the kid who loves building train tracks. This holiday gift a few years ago from the grandparents put all previous train sets to shame. The 120-piece set includes solid wood tracks, a landscaped play board, and a variety of plastic accessories. For maximum fun, you'll want to get at least 5-10 additional trains, such as Thomas the Train engines. You can get these on Amazon. If you're on a budget, I've found great deals on slightly banged up trains on eBay. Even after a year with this gift, my kids regularly enjoyed experimenting with building all sorts of different configurations, and eventually, invariably they want to rebuild the original configuration.
---
The Surprising Oil Tax in the Inflation Reduction Act
President Biden has made reducing gas prices paramount in his administration, so it was likely a surprise to hear a Republican senator last Sunday warn TV viewers that a revived and increased oil fee in the climate bill will increase their gas costs.
The Tide Has Turned Against Open Streets
Once a promising development for advocates pushing for a less car-centric future in cities, the open streets movement has ceded significant ground to cars since the height of the pandemic.
This six-course series explores essential urban design concepts using open source software and equips planners with the tools they need to participate fully in the urban design process.
This course aims to provide an introduction into Urban Design Sketching focused on how to hand draw master plans using a mix of colored markers.
View More