Transportation Apps Designed to Ease the Commute
We all travel, so it's great when a handy new mobile app makes it easier to move around. Whether it is navigating the city, parking, or making our ride safer, there is likely a transportation app for that.
We all travel, so it's great when a handy new mobile app makes it easier to move around. Whether it is navigating the city, parking, or making our ride safer, there is likely a transportation app for that.  Edgar Ables, a bachelor's student in city and regional planning, spent part of his summer internship researching the latest mobile apps of interest to planners. The following are a few recent apps that may make your travels easier.
There are a couple of new navigation apps that aim to improve the mobility experience.
Urban Engines (Android and iOS) is a navigation app that seeks to aggregate transportation options. For example, I often get frustrated as a cyclist because I cannot create a route in Google Maps that combines bicycling and transit. In Urban Engines, users drag and drop the location and destination pins and the app draws a smart path between the locations, allowing the user to select the desired modes of travel and the app provides the most efficient transportation route. The app is currently available in Boston, Chicago, Los Angeles, New York, Portland, San Francisco, Seattle, and Washington, D.C.
Walkonomics

 (iOS) is a new app that allows users to create the most walkable route to their destination in seven cities around the world, including New York and San Francisco in the United States. The walkability is based on road safety, presence of sidewalks, pedestrian crossings, 

hilliness,

 etc.
Parking Panda (Android and iOS) allows drivers to make a parking reservation in advance in participating garages and parking lots, as well as with individuals for a parking spot in their driveway. Drivers simply pay for the parking via their smartphone. The MonkeyParking app provides a similar service in California and Boston, but also includes public parking spaces. Yet, city officials are concerned about these apps. In San Francisco, the city attorney issued cease and desist orders to apps that charge for finding public parking. (MonkeyParking subsequently released a new version based on a new business model that auctions driveway space.) The Los Angles City Council has requested a city regulation banning digital media applications that identify available parking on city streets and charge fees for the reservation of the spot. The City Council believes that these companies are taking a public asset, on street parking, and effectively privatizing public parking. The city does cooperate with information sharing apps, such as Parker (Android and iOS), that alerts drivers to open, metered spaces on city streets—the big difference is Parker does not charge for the service.
And what do you do when you see someone illegally parked? TowIt (Android and iOS) allows users to post photos of potentially illegally parked cars. When a user sees a parking offender, they can snap a photo of the vehicle, including the license plate, and upload it to the TowIt website. If parking authorities are monitoring the site they can issue a citation. The app is actively being used in cities across the country.
A number of app developers are seeking to improve safety on our roadways. Bike Shield (Android and iOS) alerts users with an alarm when a bicycle is nearby. Bicyclists and motorists alike can download the app. A user simply turns it on and leaves it on. The app sends an alert to the vehicle driver when they are a few seconds before approaching a bicycle. The app is free for riders and drivers with the hope of making city streets safer.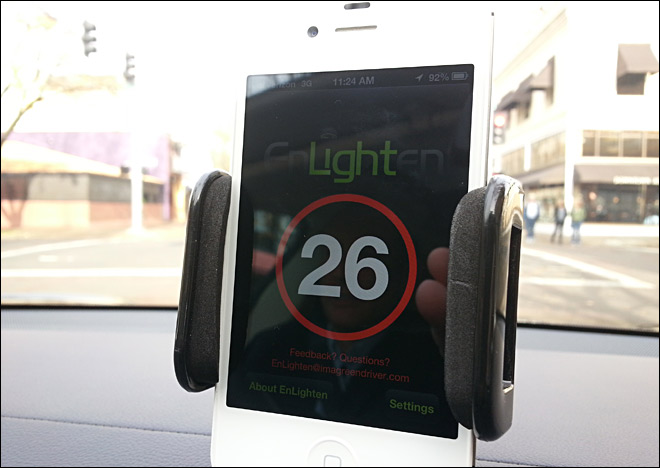 In the realm of extreme convenience. Drivers can use EnLighten (Android and iOS), which chimes a few seconds before a red light will change to green. The goal is to help refocus drivers on driving. That is to get them to look up from their phone, stereo or other distraction. The app is connected to a city's traffic lights. EnLighten is currently in use in Portland and Eugene, Oregon; Salt Lake City, Provo, and Ogden, Utah; Las Vegas, Nevada; and Arcadia and Walnut Creek, California. I'm not sure whether this would encourage additional distractions by looking at a phone or improve safety. What do you think? 
Topics