What are the necessary ingredients for successful Transit Oriented Development (TOD)? Bruce Liedstrand, Planner for Liedstrand Associates, lists the ten fundamental, common-sense elements of TOD.
---

Ten Common Sense Rules For Transit Oriented Development
Many people don't have a clear understanding of the fundamental elements of Transit Oriented Development. These Ten Common Sense Rules can help.
1. Urban Form.Transit Oriented Development (TOD) must have an urban, rather than a suburban pattern of development. A TOD isn't just a denser suburban mixed use that is located at a transit stop. It is a different kind of a place; a different development pattern governed by a different set of rules. Generally, suburban forms are "loose", horizontal and spread out, and urban forms are "tight", vertical and compact. Here are a couple of examples from recent California TODs, only one of which is successful: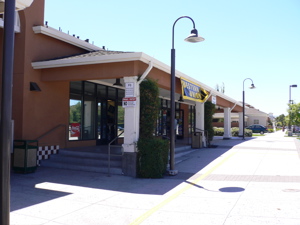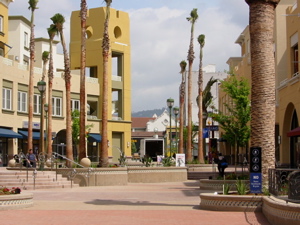 Urban Form
2. Urban Uses. The uses in the area immediately adjacent to the transit stop should be limited to those that are compatible with and supportive of the transit stop and those living and working there. What products and services are needed by the people who live and work in the TOD and those who are passing through? In addition to normal downtown retail, is there a need for day care, cleaners, convenience retail, etc.? Large automobile oriented uses, particularly those that draw from a large catchment area (big box, auto dealers, power center tenants, etc.) should be prohibited.
3. Urban Intensity. Sufficient development intensity must be clustered immediately adjacent to the transit stop. The vitality and success of the TOD are dependent on having enough people using it at all hours of the day. If you are not sure how many people are needed, put in too many rather than too few.
4. Mixed-Use. Allowing people to live, work, shop and play within the walkable area. If you live or work there, can you find everything you need on a regular basis without getting into a car?
5. Retail Location. Retail is dependent on access to enough customers, whether they come by train, bus, car, bike or on foot. Don't try to force retail into a location that won't give it that necessary customer access. Where possible, the retail should be placed so it is able to draw customers from both the TOD and a major street.
6. Reverse the normal parking rules. Instead of worrying whether there will be enough parking, make sure there is not too much. You may need parking maximums instead of parking minimums. Don't surround the transit stop with parking. That area is reserved for high density mixed use. If the commuters who use the transit for "park and ride" park a few blocks away and walk on the sidewalk past the retail shop fronts, they become potential customers for the retail. If land values justify it, put the parking in structures or underground. At-grade parking lots adjacent to the transit stop can destroy a TOD.
7. Walkability. Everyone who gets on or off public transit is a pedestrian regardless of how they get to the area. Comfortable, convenient walkability is essential. Before a TOD plan is approved, imagine yourself walking in it. Are the important destinations within a comfortable walking distance? Can you get all the products and services you need on a regular basis by walking? Will kids be safe there? Will a woman feel comfortable walking there alone at night?
8. Transit Connectivity. The transit stop needs to give the rider access to a convenient, integrated regional transit system that will connect him or her to the important destinations throughout the region. That integrated system needs to include coordinated feeder systems as well as main line systems.
9. Neighborhood Connectivity. The transit stop needs to be connected by a network of streets and pathways to adjacent neighborhoods and allow direct access to the transit stop without relying on the arterial street system. Convenient, easy flow of people from adjacent neighborhoods will add to the success of the TOD.
10. Value Capture. Transit is expensive to construct, but adding transit can substantially increase the value of adjacent properties that are served by the transit. A portion of that increase in property values needs to be captured and used to help fund the transit.
Footenote 1 Transit Oriented Development, Using Public Transit to Create More Accessible and Livable Neighborhood, TDM Encyclopedia, Victoria Transport Policy Institute, updated May 9, 2005. Also see The Transit Metropolis, a Global Inquiry, by Robert Cervero (1998).
---
Bruce Liedstrand is a planner for Liedstrand Associates.
The Surprising Oil Tax in the Inflation Reduction Act
President Biden has made reducing gas prices paramount in his administration, so it was likely a surprise to hear a Republican senator last Sunday warn TV viewers that a revived and increased oil fee in the climate bill will increase their gas costs.
The Tide Has Turned Against Open Streets
Once a promising development for advocates pushing for a less car-centric future in cities, the open streets movement has ceded significant ground to cars since the height of the pandemic.
This six-course series explores essential urban design concepts using open source software and equips planners with the tools they need to participate fully in the urban design process.
This course aims to provide an introduction into Urban Design Sketching focused on how to hand draw master plans using a mix of colored markers.
View More