Competitions help young designers get B.I.G
Perhaps the biggest difference between the design processes in Europe and North America, at the building scale and increasingly at the neighbourhood scale, is in the use of design competitions. I've been fascinated by this difference for some time, and make a point while in every competition-friendly city I'm in, to dig a little deeper.  
Perhaps the biggest difference between the design processes in Europe and North America, at the building scale and increasingly at the neighbourhood scale, is in the use of design competitions. I've been fascinated by this difference for some time, and make a point while in every competition-friendly city I'm in, to dig a little deeper.  
Many countries and cities have had a competition culture for generations. In some, competitions are actually mandated by law. In other places (like Sydney Australia, which in the past decade or so has established both requirements and density-incentives around scales of competitions), they've been building (or re-building) such a culture to noticeable success in recent years. 
My invitations last year to speak in Copenhagen and Rotterdam gave me another opportunity to delve into the robust competition systems in Denmark and Holland. In particular, on this trip one of my goals was to talk to some of the young architects engaged in the system. I got that chance in spades, particularly with one of Europe's "hottest young architects" (according to many), Bjarke Ingels of BIG (Bjarke Ingels Group).
During my previous trip in 2007 to Copenhagen, I had sought out some of BIG's (formally PLOT's) famous new buildings, particularly in the Greenfield suburb of

Oerestad

(an area with some interesting architecture but a remarkably weak urbanism and public realm, in my opinion). In particular, the increasingly famous "V" residential building with its radically pointed balconies was a must-see. My assessment -

 

a visually striking building and remarkable configuration, with great attention to details like sun access with the adjoining "M" building, but a rather harsh, dead ground plane.

 

This example and others led me to comment during my public presentation at the Danish Architecture Centre (DAC) early in this trip, that I was a great admirer of Bjarke's architecture "from the second floor up", and that if he could learn great urbanism, or how ground-level building edges activate and enliven the "spaces in between" from local master Jan Gehl, he might one day become "the most powerful architect on earth". The comment got the expected laughter, but some unexpected attention locally as it created some "buzz" - the risk perhaps of playing "matchmaker" between two exceptionally creative people living in the same city. I've since heard, though, that the two firms are in fact reaching out to each other and may try collaborating on work in the future - what a great collaboration that would be.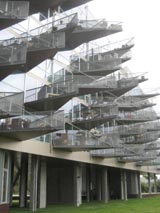 The 'V' - great above the first floor?
My curiosity about Bjarke was further sparked when I heard that the now 34 year old got his big start 8 years ago or so, by winning the first three open competitions he entered after leaving his internship at OMA. 
So sure enough, the morning after my presentation (and comments on his architecture), Bjarke and I had a long breakfast chat and discussion (and at a few points, friendly debate) over the many building models in his office. What struck me as much as the eye candy models was the remarkable youth of the 60 or so staff around the open-concept office, a veritable "united nations" of young international designers with a great creative energy.  
Bjarke invited me to the BIG office party that night to celebrate a new competition win - an invite that gave a real inside look at young European competition culture at work (or should I say at play). This because after the BIG party, we party-hopped to two other architecture firm parties, firms even younger than BIG. I ended up chatting with the 20-something heads of ADEPT and EFFEKT who were also celebrating their largest commissions to date through open competition (buildings for the Iceland Academy for the Arts in Reykjavik, and a new Architecture School in Estonia, respectively).
Both young firms were excited and slightly nervous contemplating the quick need to staff up. As someone who's been initially considered young for every position I've ever held, at least by North American standards, I realized the irony of my main thought.... "Wow, they're young!" 
I was struck by how similar but different these conversations were to my usual chats with young architects in Canadian firms. Standing around a model chatting about the design while 20-ish designers played ping-pong and debated local fashion and politics - I wouldn't say our young Canadian designers here seem any less smart, or less passionate. Maybe the main difference might be confidence or expectation... these young Danish designers seemed thrilled but not surprised by their wins, indicative of how ordinary talent-based (rather than age-based) achievement is in Europe. Here, it's perhaps often about "paying your dues". 
Admittedly, these were not just any young firms - these were likely some of the best, and for every winning young firm, there are many still struggling for first commissions. But still, it was hard to imagine them achieving what they had, even with their talent, in North America. 
In Canada, some cities are working to get back to a competition culture for civic buildings and spaces, notably Toronto and Montreal. Here in Vancouver, the Library Square Competition in 1991 was the last building architectural competition I know of, which led to the Moshe Safdie-designed public library in 1995. I'm not aware of any city in Canada where private sector developers use competitions. 
To be sure, open design competitions and idea competitions have both advantages and disadvantages, but one thing is certain - they are great for young designers. They represent a talent-based chance to make a name for yourself when big commissions are unlikely. And from a city's perspective, when young design ability is fostered locally, all design is fostered and improved and a "culture of design" is strengthened.  
In Vancouver, the steps back to a young design competition culture have begun, encouraged by the city, but also through a growing grass-roots. Last years "poto:type" architectural ideas competition, by intern architects from AIBC which I was a judge for, sought to promote viable alternatives to the podium-and-point-tower building typology often lazily associated with the "Vancouver model" of city building (the true nature of the "model" is much more than a particular building type). This year, the Vancouver Public Space Network is running a "Where's the Square" idea/design competition, and I'm currently working with AIBC to launch a competition to translate the City's commitments around climate change (through Council's adoption of the 2030 Challenge,the recently approved EcoDensity Charter, the Climate Change Action Plan, and our newly elected Council's goal to make Vancouver "the greenest city in the world") into innovative new ultra-green building types (watch the AIBC website for information on this in the coming months). As a related aside, I note with great admiration, the achievement of one of our own young city planners, Mike Wilson of our Major Projects Team, who recently won the grand prize for design ideas to strengthen Toronto's public realm, in an open design competition put on by SPACING magazine , for the "city-builders of the future"- 35 and under. 
These would not be the kind of competition wins that put food on the table and cause young firms to start up or staff up, but they are a start, and they help with the reputation part of the young designer's struggles. 
In the meantime, young successful European architects like Bjarke Ingels at least remain an inspiration, showing what competition wins can do. And for the record, at Bjarke's request, I went back out to Oerestad with the designer to see BIG's latest achievement, a remarkable residential building called "the Mountain". Not only is it a remarkable achievement of innovation around internal parking and people circulation, and a striking building from a distance - it also has a pretty good retail ground plane.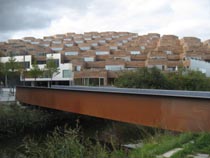 Is it a building or a Mountain?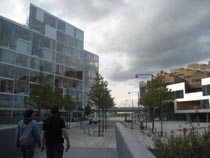 'The Mountain' in context.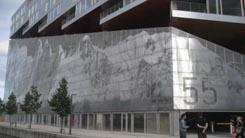 A first try at ground level retailing.