Great street design, and coming full-circle with our design heroes
"If we can develop and design streets so that they are wonderful, fulfilling places to be
—
community-building places, attractive for all people
—
then we will have successfully designed about one-third of the city."         A
llan Jacobs
A few weeks ago, I was asked to speak at an event celebrating what might possibly come to be recognized as one of Vancouver's important civic feats - the redesign and reconstruction of downtown Vancouver's Granville Street.
"If we can develop and design streets so that they are wonderful, fulfilling places to be
-
community-building places, attractive for all people
-
then we will have successfully designed about one-third of the city."         A
llan Jacobs
A few weeks ago, I was asked to speak at an event celebrating what might possibly come to be recognized as one of Vancouver's important civic feats - the redesign and reconstruction of downtown Vancouver's Granville Street.
It ended up representing a coming full-circle for me as a professional- but I'll get to that later.
For those of you not familiar with Vancouver, Granville Street (a main spine through the city and downtown peninsula) has a complex history and purpose. It's the primary transit street downtown with a dedicated bus mall along part of its length. It's also the city's entertainment destination street, a retail shopping street (one that's had challenges), a street with heritage and history, and a street that's a big part of the "mental map" of residents and visitors alike. In all, it's arguably the most complex and important street in British Columbia.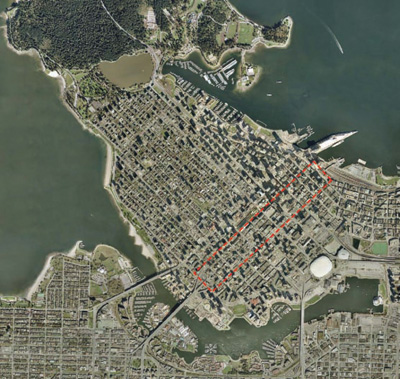 The proposed new street design is worth studying, and the project website facilitates such study. 
The big picture themes are a "one street" concept to unify along its long length; a return to the "great white way" theme of old, in both entertainment role and design/lighting detail; a healthy tree-lined street as a primary design definer; and the introduction of "ribbons" as a signature design form.
The website outlines the rest - design goals and objectives, design drawings, etc. The design includes wider sidewalks, new trees and grates, custom street furniture, a one-block civic event space/plaza, and an innovative "flex parking" approach that will read as an expansion of the sidewalk when not being used for parking.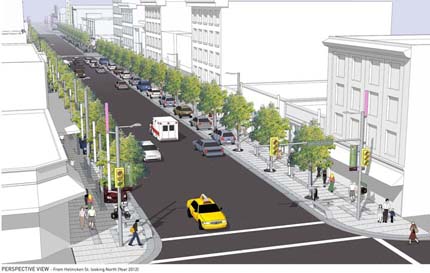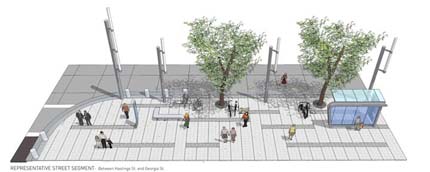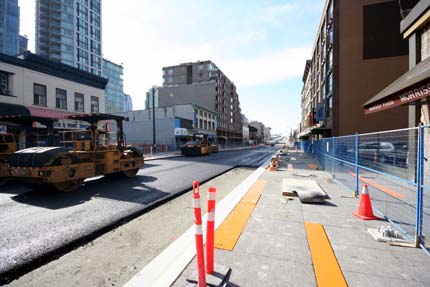 Although many creative hands, "professional" and community, have shaped the results at various stages, the design benefited greatly from early involvement at the concept stage from great street geniuses Allan Jacobs and Elizabeth Macdonald of Cityworks in Berkeley, CA (who also live part of the year in Vancouver). Jacobs is of course famous to urbanists as the author of Great Streets and other significant books, and as past planning director of San Francisco.
Vancouver has historically been careful around the hiring of external "gurus". Hiring big names, even when combined with local talent, can be a risky practice, sometimes at the cost of local context and understanding. As well, some "celebrity professionals" result in formulaic approaches, rushes to judgment, inflated costs, or pressure to hire them to do more than their skills or knowledge support.
There are other external pro's though, that give a very professional and valuable service. Some have an ability and willingness to advise on how to maximize their value and minimize their cost. Jacobs, in my opinion, is one of these.
Jacobs and a few others, seem to prefer the opportunity to have a powerful but scoped impact in many cities. Another such international urbanist, my friend Jan Gehl from Copenhagen, recently told me he indeed enjoys a role as "intellectual icebreaker", hired in many cities from New York to Sydney to "state the obvious with great clout!" Of course, both Jan and Jake do much more than that.
Jacobs and Macdonald (and their local design team) made many initial contributions to the Granville Street design process - for example, the above-mentioned flex parking approach. More significantly though, they did what Jacobs often does - created strong and clear principles for excellence and set the bar high for a truly great street. And once Jake does this, the bar tends to stay high, all the way through the process, often on the strength of his knowledge, credibility and reputation. The theory, I suppose, is that you wouldn't hire Jake if you weren't really serious about achieving a great street - and if you're serious, you have to stay serious at every stage.
As you'll see from the website, the City even adapted the "great street principles" for the design process, directly from Jacobs' book - perhaps a rare thing for a planning exercise to do so overtly. Specifically:
- places to walk with some leisure
- physical comfort
- definition
- qualities that engage the eye
- transparency
- complementarities
- maintenance
- quality of construction and design
So it's hopefully clear how this post relates to great street design by now - but what does this have to do with me coming full circle as a professional?
Well, for this celebration event, as I considered what to say about the design of a great street and its importance to the city's public realm, it occurred to me that this was a significant moment for me personally. Here I was, about to speak about a street design guided by one of my long-time design heroes.
I'm sure I'm part of a large club of urbanists who at least partially credit Jacobs for sparking their passion for city design in the first place. His book, along with Alexander's A Pattern Language, Gehl's Life Between Buildings and Whyte's City: Rediscovering the Centre, initially transformed me from a young city planner and undergrad student interested in environmental planning and city and regional systems, to a practitioner and masters student passionate about physical city planning and design.
Early on, this led to some understandable admiration and hero worship that took a while to shake. I still remember lining up with others as a very young city planner after a speaking event in Toronto, to have Jacobs sign my copy of Great Streets after his inspiring presentation (it was slightly damaged and thus a discounted copy, all I could afford when I bought it - the same copy I still have in my office).
I remember wondering then if I would ever have the chance to work on a street that might one day be thought of as great.
Years later, while planning for downtown Calgary, I hired Jacobs as a consultant (to do a few things, including help us establish principles on how to design a "great underpass", believe it or not), and since then have gotten to know him more. Hero-worship evolved into professional respect, but he has continued to inspire, most recently with his advocacy for more outspoken and physically-minded planning departments across North America, (a call which I've picked up here in Canada - see here for an earlier post on this, which also ran as an article in Places Journal - the post includes a link to Jacobs initial call-to-arms article in Places).
So as I was making my speech at the event, now as Director of Planning many years after that book-signing, I decided to take time amongst the comments about the strength of the design and the role it would play in our vibrant downtown, to come full circle about Jake.
I said it was an honour to have been able to help see through and fight for a street design influenced by one of my early heroes. I told the slightly embarrassing story of the book-signing. More importantly, I described how many times during the process, during design, and critically during costing and budgeting, we asked ourselves "would this proposed change still result in a great street?" Does anyone want to call this just a "good street" once it's complete? Because no-one did, the design, even while evolving, retained the potential for greatness. To be sure, greatness is subjective and grounds for debate, and only time will tell whether it will succeed.
Many have reason to feel proud about the Granville Street redesign opening soon. Some local design talents, like PWL Partnership who were contracted to develop the technical designs, Hotson Bakker Boniface Haden who partnered with Jacobs/Macdonald early on, and many of our own design staff, deserve considerable credit for the results. The Downtown Vancouver Business Improvement Association was a huge champion for quality design from day one through every stage.
But Jake and Elizabeth deserve a lot of credit too. One more great street dialogue they helped realize. And with this one, I got a chance to come full circle with a design hero.