Pedestrian Sprawl Alert: Streets Gone Wild
Once upon a time public rights-of-way were simpler; they made sense.  The mobile laws of society were black and white.  Streets were for cars and sidewalks were for, well, walking on the side of the street.  You know, out of the way?  At some point recently though things have started to blur, and it's starting to get just a little bit out of control.  It's hard to put one's finger on it, but lately there's been this funny notion that the street itself, long the gift to man-and-machine, is supposed to be shared with people who just can't seem to keep themselves on their side of the curb.  Woe is me, in some instances there isn't even a curb anymore!  What's worse, it seems apparent that our public officials, the very people we elect to represent us an
Once upon a time public rights-of-way were simpler; they made sense.  The mobile laws of society were black and white.  Streets were for cars and sidewalks were for, well, walking on the side of the street.  You know, out of the way?  At some point recently though things have started to blur, and it's starting to get just a little bit out of control.  It's hard to put one's finger on it, but lately there's been this funny notion that the street itself, long the gift to man-and-machine, is supposed to be shared with people who just can't seem to keep themselves on their side of the curb.  Woe is me, in some instances there isn't even a curb anymore!  What's worse, it seems apparent that our public officials, the very people we elect to represent us and deliver us from the evils of anarchy, are complicit in the scheme to let shoemongers expand out from the periphery and conquer the precious carriageway from both flanks!  I can only call this phenomenon, where the powers that be openly and willingly promote the trend of foot traffic putting the squeeze on our American right to drive where we need to, Pedestrian Sprawl.
I first caught sight of Pedestrian Sprawl in a city that is close to my heart: Helsinki.  The Finnish capital is bustling with the industrious hum of cars, trucks, buses, trams, bikes, and yes, pedestrians.  But if you think you can happily zip around in a sweet euro-sports car, caveat auriga!  There, the sidewalks are already absurdly wide, with even wider berths given for bikers who somehow also managed to nip off a few meters from the weary drivers.  Bus lanes also contribute to preventing the faithful autophile from enjoying the city from various lines-of-sight.  All this is somehow forgivable however because, after all, the car was invented in America anyway so who could expect the Finns to cherish this basic necessity as much as we do?  But then one day, innocently turning a corner after careful negotiation past tram and crosswalk, the laws of transport physics appeared before me, turned on their head, in vivid chaotic audacity.  Somehow when the traffic engineers were away diligently planning another critical ring road, pedestrian sprawl had struck this quaint historic cobblestone street...big time!  A kahvila (cafe) had burst out from the building line and expanded right into the street like some heinous, haute société hernia.  The mini-terrace was elevated about a foot from the ground, totally eliminating the potential for even an exciting espionage film car chase scene where patrons shriek and chairs and tables scatter.  I later learned that Helsinki even dares to go further with a long list of streets that are supposed to be equally shared between cars and pedestrians called woonerfs, which loosely means "residential yard" in Dutch.  Apparently The Netherlands is riddled with these areas;  if you love your right to drive, stay away!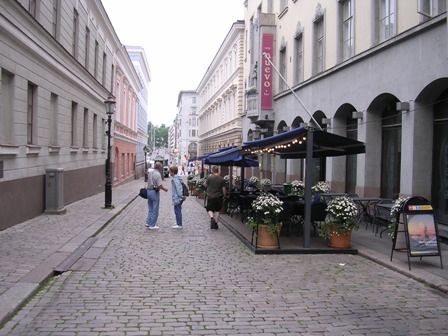 If I had known at the time this anti-auto insanity would insidiously creep into our cities, I'd had immediately submitted an op-ed to National Review to rally the troops.  Unfortunately, my imagination couldn't fathom the distorted reality that would slowly ooze over America's most prized driving domains.  Before anyone could rest their wrists against the wheel to dial their local representatives, Pedestrian Sprawl struck America at its heart!  And so it carries on at a relentless pace.  It was, once, a snap to cruise your Hummer through the core of Manhattan's flashy Meat Packing District; four lanes across with room to spare in front of the trendiest clubs to let the crowds see you roll up.  But those voracious crowds expanded beyond the ample space given to them and swelled into the streets to the point where the mind boggling result was to compress the street into two driving lanes and leave the rest to wallow in the bane of Pedestrian Sprawl.  From the looks of things, such sieges on the steering-wheel set are not subsiding.  For those of us who cherish the freedom of barreling down side streets, scoring a parking space right up front, or spreading the love with 400 watts of rolled-down-window beat bliss during a main street creep, the glory days of the American dream are as gone as the regular heart-racing roar of a catalytic converter-free 426 Hemi.  Alas!