Top 8 Public Space Design Books
Managing Editor Tim Halbur selects his favorite books for designing and planning public spaces.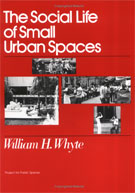 1. The Social Life of Small Urban Spaces
by William H. Whyte 
Project for Public Spaces Inc, 125 pages
This book, and in particular the film of the same name, is a must read/see for anyone interested in the behavior of the human animal in public. I choose those words deliberately, because watching Whyte's movie was the first time I realized that we are not the individuals we think we are: we move in synchronous fashion, we predictably choose places to sit, stand and walk in public based on our animal instincts. A favorite moment is when the camera captures people coming upon loose chairs along a public sidewalk. Inevitably, every single person moves the chair before sitting on it. Maybe just an inch or two, but as animals, we must claim our public space and make it our own as surely as a dog will spin several times before laying down.
Buy this book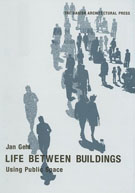 2. Life Between Buildings
by Jan Gehl 
Danish Architectural Press, 200 pages
This is sadly out of print, and used copies are expensive. But Jan Gehl is one of the most active advocates of good public spaces, and a pleasure to listen to if you get the chance. One of my favorite parts of this book is Gehl's observations on comfortable personal distances, particularly when it comes to sitting at tables. I got to watch this first hand when I observed a seating area in Oakland's Jack London Square that had 6' round tables and 3' square tables for people to choose from. Inevitably, people preferred the small square tables because it is easier to talk to your companion. Round table users all improvised in the same way, using the edge of the table like a bar and scooting closer together. Gehl nailed it.
Buy this book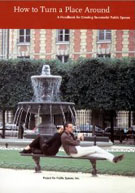 3. How To Turn A Place Around
by Project for Public Spaces
Project for Public Spaces Inc, 125 pages
More from PPS, but they truly are the experts here. The central observation of this book that differentiates it from the others is the emphasis on programming and management. Recently I was talking to Dan Zack and Susan Moeller, planners in Redwood City, CA, and they said that programming their new spaces with concerts, outdoor movies, and more has been central to making their new downtown plaza work.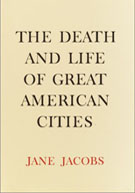 4. The Death and Life of Great American Cities 
by Jane Jacobs
Modern Library, 483 pages
It is almost trite to turn to this bible of planning, but there are a lot of observations in here that rarely get mentioned. Jacobs skepticism of city parks might surprise the casual reader, but really speaks to me. Today's planners can recite as rote the idea that projects surrounded by open space are unsafe and poorly planned, and at the same time advocate blindly for more "open space". Jacobs rightly observed that parks need to have plenty of eyes on the street, a constant stream of different types of users, and programmed space (specific sports, activities, etc., like chess tables, a bocce court, etc.).
Buy this book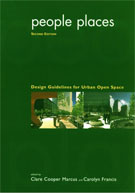 5. People Places: Design Guidlines for Urban Open Space by Clare Cooper Marcus and Carolyn Francis
Wiley Press, 384 pages
When preparing to write my thesis on United Nations Plaza in San Francisco, I went looking for good standards for public space observation. Striking out, I turned to landscape architecture and found this excellent book by Clare Cooper Marcus, a landscape architect and professor at UC Berkeley. Marcus includes useful survey formats, complete with worksheets that made my observations easy to record and valuable for comparison.
Buy this book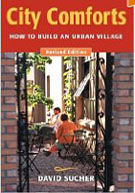 6. City Comforts: How to Build an Urban Villageby David Sucher
City Comforts Inc., 234 pages
Sucher's book is a reminder that public space planning need not be complicated. Simple pictures express basic ideas that will keep your public spaces inviting and successful. He also captures- in the first few pages- the struggle of modern urban planning: how do you make a place feel "urban" (bustling, a degree of anonymity, culture and complexity) and like a "village" (friendly, natural, community-oriented) at the same time?
Buy this book

7. Squares: A Public Place Design Guide for Urbanists by Mark C. Childs
University of New Mexico Press, 230 pages
Mark C. Childs presents many of the common questions about public space, and answers them in a clear, concise style. Does CPTED (Crime Prevention Through Environmental Design) work? What does 'local' mean for design? When and how should automobiles be allowed in a public square? These questions and many others are nicely handled by Childs in this appropriately square book.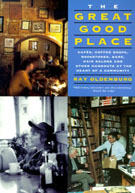 8. The Great Good Place: Cafes, Coffee Shops, Bookstores, Bars, Hair Salons, and Other Hangouts at the Heart of a Community by Ray Oldenburg
Da Capo Press, 368 pages
Oldenburg's concept of the 'third place' (home is the 1st, work the 2nd, and your public space/hangout is the 3rd) is central to planning public space, and has become de rigeur in the retail world (think of Starbucks and Barnes and Noble). While the utopian ideal of public space is that it be publicly owned, I think American planning discounts the benefits of public-private partnerships in squares and plazas, particularly in regards to cafes and restaurants of the sort Oldenburg is talking about. I had a chance to interview Ray Oldenburg once, and I (naturally) asked him about his favorite third place. He has two, including a local sports bar that carries his favorite beer just for him.
Buy this book
Topics