BRT: A Case of Mistaken Identity
As Bus Rapid Transit, or BRT, has become a much-discussed alternative among transportation planners, Jeff Wood of Reconnecting America argues that a rose by any other name does not smell as sweet. When comparing transportation options, it is important to understand the true definition.
Recent alternatives analyses have added a newcomer to the list of transit options. Light rail, heavy rail and bus alternatives have been joined by a hybrid bus option, known as Bus Rapid Transit or BRT. Proponents of this technology claim that it gives the benefits of rail at a lower cost, citing the success of systems in Curitiba, Brazil and Bogota, Columbia. Opponents believe the technology is being oversold and the full costs and benefits are misrepresented. But the biggest question everyone has is: What qualifies as Bus Rapid Transit?

Full BRT
Full scale BRT is a system of fully grade-separated, dedicated bus lanes with intelligent transportation systems (ITS), full scale stations, low floor/level boarding, branded vehicles, and off vehicle ticket vending. Successful BRT needs all of these elements to truly create the benefit attributed to BRT. The Orange Line in Los Angeles is an example of full-scale BRT. Buses can be as long as 65 feet and carry 90 passengers per bus. Recent costs have ranged anywhere from $25 million per mile for the Orange Line to an estimated $49 million per mile for a new BRT line in Hartford. This includes guideway reconstruction, platforms/shelters and new buses which can cost anywhere between $300,000 for a 40 foot conventional bus to $1.6 million for a full 60 ft. articulated vehicle. Also included in the cost is new ITS technology, including signal pre-emption and GPS arrival time information for the stations. Costs obviously increase in specific cases such as the Silver Line in Boston when subway tunnels must be built.
Part BRT
Some systems operate as part BRT. These lines often run part of their route in city streets or run in HOV lanes with other traffic or dedicated transit lanes. They also have some or all of the same features as full BRT including ITS, full-scale stations, low/floor level boarding, branded vehicles and off vehicle ticket vending. An example of part BRT is the Eugene EMX busway or the Euclid Busway in Cleveland. 40% of the EMX route is in traffic, while the rest is in a single bi-directional dedicated lane. Another example of half BRT is the Houston Express buses that operate in the HOV lanes of Houston's freeways with vanpools and cars. Costs are much lower for these systems and reported costs range from $6 million per mile for the EMX to $17.9 Million per mile for the Euclid Line. This includes the partial guideway reconstruction, vehicles, ITS, and stops.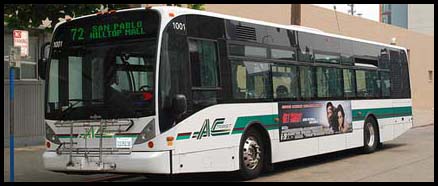 The Rapid Bus
The remaining systems really are not really BRT at all. They are instead repackaged express buses. These lines run in traffic along regular bus lines but have limited stops and some of the special features of BRT including ITS, stations, low/floor level boarding, branded vehicles, and off vehicle ticket vending. Examples include the San Pablo Rapid Bus in Oakland, California and the Metro Rapid Bus system in Los Angeles. Both run on the street with regular buses that have red "Rapid" badges. Costs for these systems only include new buses, station canopies, and necessary technological changes such as GPS for real time arrival and signal pre-emption.
In other words, don't judge a book by its cover. The "Bus Rapid Transit" label is touted as a low-cost, easily implementable solution, but unless it is in an exclusive use guideway, with boarding platforms and the ability to change the streetlights ahead, it won't deliver all of the benefits attributed to the concept. Riders and developers know the difference. Part BRT and Rapid Bus are incremental solutions that are an improvement over standard buses, but they should not be touted as substitutes for rail and full BRT.
---
Jeffrey Wood is Program Associate/GIS Specialist at Reconnecting America. Jeff does mapping analysis for a variety of projects and conducts research on transit mode funding, technology and the relationship of transit to development. Previous to his work at Reconnecting America, Jeff co-founded Connect Austin, an umbrella organization for nonprofits in Austin that promoted streetcars. He has a Bachelor of Arts in Geography and a Master of Science in Community and Regional Planning from the University of Texas at Austin. He is also co-instructor of Planetizen's online course PLAN-115: Transit Oriented Development Toolbox.