Testing Vancouver's Urbanism by Pedal and Foot
I occasionally get accused locally of being too much of a "booster" for Vancouver's success and reputation in city-building and urban design. Although I usually tend to mix in a healthy dose of "constructive
candour
" on how we need to improve, if there's truth to this accusation, I'd say I come by it honestly. First off, I've been an admirer and careful student of the Vancouver approach to urbanism, as imperfect as it might still be, long before I arrived in the City as Director.
I occasionally get accused locally of being too much of a "booster" for Vancouver's success and reputation in city-building and urban design. Although I usually tend to mix in a healthy dose of "constructive
candour
" on how we need to improve, if there's truth to this accusation, I'd say I come by it honestly. First off, I've been an admirer and careful student of the Vancouver approach to urbanism, as imperfect as it might still be, long before I arrived in the City as Director. Second, my perspective on the progressive work of all of those who've contributed to this city, is positively reinforced whenever I take urbanists from all over the world, on tours of our city (including the many faces of Vancouver, not just the "post card" images of the city). Seeing Vancouver through their eyes always helps me see it with fresh eyes.
A case-in-point was a few weekends back, when I spent my birthday Saturday helping noted U.S walking and cycling advocate Dan Burden take a group of politicians, planners, designers, developers and public health officials on a bike and walking tour of the city, admittedly with an emphasis on the central area. Also helping with the tour were fellow Planetizen bloggers (and avid cyclists) Gordon Price of the Simon Fraser University City Program, and Todd Litman from the Victoria Transport Policy Institute.
Dan had already written positively on the Vancouver and Metro walking and cycling experience in an op-ed piece for the Vancouver Sun, calling our Region "the heart and mother lode of North America's walkability" and our False Creek waterfront "the symbolic birthplace of modern North American walkability". High praise indeed, and likely to generate local debate, as there are many parts of the City and Region that still need substantial improvement around cycling infrastructure. It's my favourite thing about Vancouverites - we have very high standards for our city, and well we should.  
As a cyclist, I myself have frequently observed the pros and cons of our cycling infrastructure. And given our tendency to compare ourselves to cycling meccas such as Copenhagen where I happen to be while writing this (where about 38% of trips are by bike) rather than to other North American cities, it would be easy to feel daunted by the considerable work to be done on this critical aspect of sustainable city-building.  
By taking these "outsiders" through the city by pedal-power, I was reminded of the progress we've made, the key steps taken, the fact that we tend to emphasize walkability perhaps more than cycle-ability, and the model we represent for other cities on this side of the pond. 
Vancouver's "modern" bicycle network, I'm told, started about 16 years ago through collaboration between the City and local advocates that resulted in the development of the Local Street Bikeways concept. The first such facility, the Adanac Bikeway, was completed in late 1993.  Since then the network has grown to also include arterial bicycle facilities including bike lanes and off-street bike paths. The system has grown fast - it now comprises over 400 lane kilometres of bicycle facilities. Complementing this bicycle network is the City's Greenways Plan, which outlines a network of Greenway corridors enhanced for walking and cycling with amenities such as landscaping, benches and water fountains.
Also, since 1995, Vancouver's development by-laws have included requirements for end-of-trip facilities in all new developments. These include bike racks, secure indoor bicycle storage and shower and change facilities.   
Current capital expenditures on Vancouver's bicycle and greenways networks average over 4 million dollars annually, with part of that total comprising cost-sharing funds from Translink and the Province of British Columbia.  The bike system has doubled in the last 10 years, and the mode share for cycling in Vancouver has tripled from about 1.3% of all trips in 1994, near the beginning of the bicycle network program, to close to 4% today and rising, about 57,000 bike trips a day.
Regarding mode share, Vancouver's 4%-ish for cycle trips is very good by North American standards.  The Region is about half that. The city regularly ranks at the top of Bicycling Magazine's list of the best cycling cities. Victoria, a much smaller city, is the only Canadian city that has a higher cycling mode share.  We are often compared to Seattle and Portland as they have many similarities. Portland, I'm told, is the highest in the U.S at 3.5% (New York Times article, In Portland, Cultivating a Culture of Two Wheels). 
Future plans in Vancouver call for a robust bicycle network with routes spaced no farther than 1 kilometre apart so that no resident of Vancouver lives farther than 500 metres from the nearest bicycle facility.   
The day's discussion with our international visitors covered these steps and improvements, and many additional themes no doubt familiar to bike advocates everywhere. Like how walkable and bike-able neighbourhoods start with land use and density and use mix, so there are many things for people to bike and walk to close by (the power of "nearness"). Like how bike-friendly design of course is about all the many details of road and streetscape design including bike lanes, cyclist light-changers, easy signage and racks-racks-racks, but also about building design - how the building meets and activates streets and street-walls to make them interesting and safe routes to bike and walk along. Blank walls are deadly to walkability, but they are also bad for cycling. About how bike infrastructure includes the ability to take bikes on transit, and bike and showering facilities within offices and bike storage in condo units.  
Participants were interested in Vancouver's approach to incentives and regulations for bike infrastructure in buildings; the strategic use of voluntary developer contributions to enhance the bike-scape over time as new density is proposed; the role of our City's Council-appointed Bicycle Advisory Committee of advocates who comment on policy and developments; and so on. The discussion covered even more ground than we did, too much to document here. 
In the end, the participants came to their own conclusions. They pointed out sections of the system where access was awkward or signage was confusing. Where new developments such as the new seawall in front of our 2010 Winter Olympics Athletes Village exceeded even their wildest expectations (and as if on cue, the "wedding on bicycles" in the picture below rode by to put an exclamation point to the discussion!). Where the construction of the new Carrall Street Greenway connecting the heart of Vancouver's low-income community in the Downtown Eastside to the False Creek Waterfront was a model not only for progressive cycle-friendly design (Dan called it the best he'd seen in North America in his career), but also a model for progressive social planning through connections between socially diverse neighbourhoods, and between people and amenities.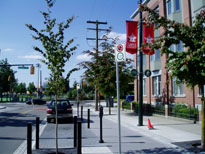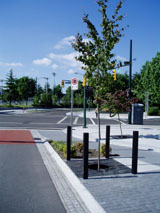 The participants seemed to learn a lot, and so did I. They left inspired about opportunities in their home cities, and so did I.
And after days of cycling through Amsterdam and now Copenhagen on this trip, I'm reminded of what's possible - where the real models are.