Urban Accessibility in India
Infrastructure for pedestrians and cyclists in Indian cities is glaringly absent, says Prof. Sudhir Chella Rajan. India needs to decide between an auto-oriented future like the U.S. or a European, pedestrian model.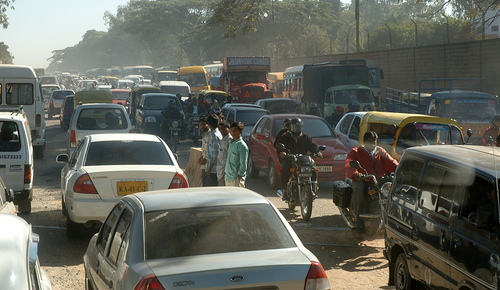 Sudhir Chella Rajan, a professor of Humanities and Social Sciences at the Indian Institute of Technology-Madras and Coordinator of their Indo-German Centre for Sustainability, says Indian policy makers find themselves at a critical juncture: they appear unsure of whether to follow the United States' 20th century model of car-dominated development – favoring increased motorization and suburbanization – or Northern Europe's more progressive model of giving pedestrians, bikes and buses the priority over private vehicles.
In India, motorization has expanded much quicker than the development of transportation infrastructure that supports all the cars, along with bikers and pedestrians. Building infrastructure centered on sustainable accessibility would avoid a dismal future for those on foot or bike, protect community life and the poorest citizens, and foster livable development in India and beyond.

Thanks to Garrett
Topics