infographics
This info-graphic from <em>Good</em> compares subways an rapid transit rail systems from around the world, by track miles and ridership.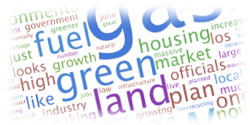 Is it possible to condense two weeks of soaring rhetoric by politicians into a single graphic? Let's find out.

In my last post I covered free online tools for creating information graphics.  Here is a look at another free online tool that can be used to easily create sophisticated visualizations and information graphics.



An introduction to free tools for creating interactive information graphics.
As professionals shaping the built and natural environment, we have to process and communicate complicated concepts and data to peers and the public. We often use visuals such as maps, charts, graphs, and diagrams to illustrate a concept or explore data.  Such visual representations are called information graphics or infographics.